HCCSC Announcements
2 months ago
Important Information for Parents
If your family lives in any of the following situations:
* In a shelter, motel, vehicle, or campground
* On the street
* In an abandoned building, trailer, or other inadequate accommodations
* Or is doubled up with friends or relatives because you cannot find or afford housing
or contact Trace Hinesley, McKinney-Vento Homeless Liaison, 260-356-8312 x 6226 or thinesley@hccsc.k12.in.us


2016 - 2017 Kindergarten Information
Register your next year kindergarten students!
Please click on the registration link and follow the instructions.
Online Registration
Kindergarten Orientation has taken place at all the elementary schools. Please contact the school and also register your kindergarten student online if you have not done so.


Here Comes the Bus!
about 1 month ago
Now available to parents and guardians of

Huntington County Community School Corporation students
•View the real-time location of your child's bus.
•Access the app from your smartphone, tablet or computer.
•Receive push notifications or email alerts.
•Send your child to the bus stop at the right time, every time.
How to get started:
1. From a computer, visit herecomesthebus.com
2. Click the Sign Up Today! button.
3. Enter school code 77459 and click "Next" followed by "Confirm".
4. Complete the "User Profile" box.
5. Under "My Students," click "Add." Enter your child's last name and student number. You can locate the student number in PowerSchool next to your student's name. You will need the whole 9 digit number.
6. Once you confirm your information, you're ready to begin using Here Comes the Bus!
Welcome to HNHS
3 months ago
Chad Daugherty, Principal
James Bragg, Assistant Principal
Jami Craft, Dean of Students
Jim Hittler, Dean of Students
Tiffanney Drummond, CTE Director
Kris Teusch, Athletic Director
BELL SCHEDULE

1st Bell - 7:40 AM
Tardy Bell - 7:45 AM
Dismissal - 3:05 PM
Early Dismissal - 2:12 PM
CONTACT INFO

Main Office: 260-356-6104 x 0
Main Fax: 260-358-2210
Attendance Office: 260-356-6104 x 1004
Attendance Fax: 260-358-2208

Athletic Hotline: 260-358-2209
Athletic Fax: 260-356-3469
Guidance Office: 260-356-6104 x 1005
Special Services Office: 260-356-6104 x 1008
Adult Education (IMPACT) Office: 888-349-0250 x 251
Class of 2016 Awards
about 1 month ago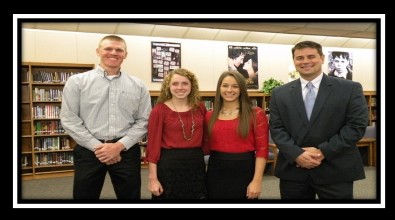 HNHS recognized its top students, Mackenzie Faurote as Valedictorian and Alexandra Christian as Salutatorian. Jarod Hammel was honored as HNHS Teacher of the Year. All are seen here with Principal Chad Daugherty.
HCCSC Board Agenda & Printable Calendars
2 months ago