Welcome to HNHS
17 days ago
Russ Degitz, Principal
James Bragg, Assistant Principal
Jami Craft, Dean of Students
Rod Richison, Dean of Students
Tiffanney Drummond, CTE Director
Kris Teusch, Athletic Director
BELL SCHEDULE

1st Bell - 7:40 AM
Tardy Bell - 7:45 AM
Dismissal - 3:05 PM
Early Dismissal - 2:12 PM
CONTACT INFO

Main Office: 260-356-6104 x 0
Main Fax: 260-358-2210
Attendance Office: 260-356-6104 x 1004
Attendance Fax: 260-358-2208

Athletic Hotline: 260-358-2209
Athletic Fax: 260-356-3469
Guidance Office: 260-356-6104 x 1005
Special Services Office: 260-356-6104 x 1008
Adult Education (IMPACT) Office: 888-349-0250 x 251
Class of 2016 Awards
2 months ago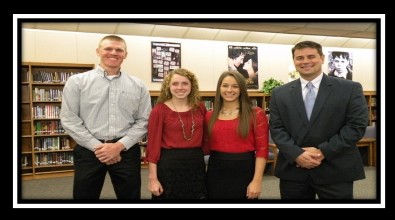 HNHS recognized its top students, Mackenzie Faurote as Valedictorian and Alexandra Christian as Salutatorian. Jarod Hammel was honored as HNHS Teacher of the Year. All are seen here with Principal Chad Daugherty.
For Parents

Printable Calendars
Open now!
9 days ago
All students need to be registered for the 2016-2017 school year!
Parents with kindergarten students will be able to create their PowerSchool accounts and update their information after June 16. Please call 260-356-8312 or e-mail chuffman@hccsc.k12.in.us if you have any questions. We ask that you register as soon as possible so that we have accurate information for busing, etc. Thank you!

* Please note that the registration system does not work well on cell phones.
1. Log in to your PowerSchool parent account
here.

2. Click on the InfoSnap Student Registration link on the bottom left side. This will begin the registration for the student you have selected in PowerSchool, if you have more than one.

3. Registration will not be complete until all questions are answered. You can return to InfoSnap to complete the registration.

4. Registration is complete when all required fields are completed and you have digitally signed the registration. You will not be able to go back into the registration and make changes.

5. Go back to the PowerSchool Parent Portal and select the next student in your account and click the InfoSnap link.